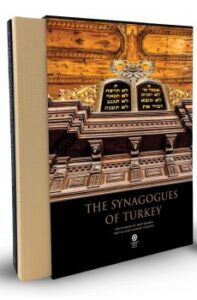 The album book "The Synagogues of Turkey", the photographs belong to the famous artist Izzet Keribar, the texts are written by researcher Naim A. Guleryuz.
The book was first published in 2008 as two hardcover books, receiving a great appeal from the readers.
During the thirteen years that passed, the synagogues in Turkey went through significant changes. Some of them were closed due to demographic reasons (Bakırköy, Home for the Elderly); some changed functions (Esgher, Zülfaris, Parmakkapı, İzmir Portekiz and Bet Hillel) and some were renewed (Shaar Ashamayim). In the meantime, some old synagogues such as Edirne, Bergama, Gaziantep and Kilis were restored by the General Directorate of Foundations or the local Municipalities either for religious services, or for touristic purposes.
Under these conditions, it was necessary to revise and republish this book the first edition of which had been sold out a long time ago.
The book's framework incorporates a 'promenade course'.
"Synagogues of Istanbul", covering the areas from Balat to the shores of Marmara and the Princess Islands, the two banks of the Bosphorus on each side, and the neighborhoods of Shishli-Beyoglu-Galata and Haskoy-Kemerburgaz constitutes the first volume and;
"Synagogues of Thrace-Anatolia", covering the areas starting with Edirne throughout Thrace, the shores of the Aegean and the Mediterranean, southeast Anatolia and the cities of Ankara and Bursa, constitutes the second volume.
"The Synagogues of Turkey" which we believe will represent 'the Turkish-Jewish Heritage' in the best possible way was published on special paper, utilizing the most modern technology, in both Turkish and English.